Wall Mounted
Wayfinding Signs
Traffolyte is excellent for valve tags. It's versatile, durable & cost effective. Traffolyte is formed from phenolic plastic sheets that are sandwiched together. We feature a mixture of distinctive colours to produce eye-catching valve tags. We engrave any size valve tag these measurements increase in 5mm increments.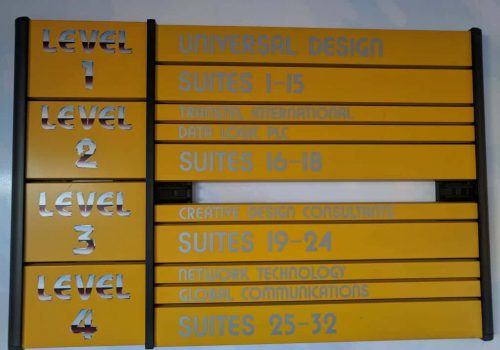 Business Park
Wayfinding Signs
These are a great option to allow your clients to find the business that they require with ease. Business park wayfinding signage also allows empty units to be advertised.
Post Mounted
Wayfinding Signs
Available in a variety of sizes and materials, post mounted signs are extremely visible and are ideal for displaying maps or graphics.
This signage solution is a cost-effective option as you are able to direct people to a number of locations using one sign. There are a number of finishes and materials available and so contact us today to discuss your requirements.
We manufacture custom signs & labels, to receive a quote or for more information please get in contact.